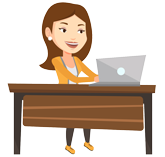 Citywide yard sales provide a great way to join forces in a community to create a large sale that attracts a lot of shoppers. These sales have gained more and more in popularity, but most cities struggle with the nuts and bolts of a sale – allowing sellers to post ads, making it easy for buyers to find sales and making easy to organize it all as the sale host. To address these problems, Cyber Scriber has created a service, mycitywideyardsale.com, that makes hosting a citywide garage sale or yard sale a simple and efficient process.
The sale host can create a sale at any time. The sale can be from one to three days and you can set the start and end dates of when ads can be placed. From the administration section you can view all ads placed and manually approve ads as needed. You can also export the sale ad data to excel to include in your other sale marketing.
Sellers can place a yard sale ad that includes category selection, a custom description, and image upload. Ads are live only after a confirmation email link has confirmed the ad to keep out unwanted spam. Sale addresses are automatically mapped, and the seller sees a warning if the address can't be mapped. Images are displayed in a responsive gallery. The sale details page contain facebook meta data to enhance and encourage social media sharing.
Buyers can search by keyword, or filter by date or sale category. Saving sale ads to a favorite list can be done after creating a free website account. They can get directions to any sale and view all sales nearby.
The service is turnkey. We provide a custom domain name with security certificate and email service. We customize the site header and footer to match your color scheme, add your city logo and the links and logos of your sale sponsors. This is a great opportunity for sponsors to support your local community and encourage responsible reuse and recycling.
To learn more and try the online demo, visit mycitywideyardsale.com.