If you regularly check your referring traffic in Google Analytics, you have likely seen your top referrers dominated by spam sites. In an effort to get their domain names in front of your eyes, your site is visited by one or more spam sites. This is known as referral spam. You may look at your list of sites that refer traffic to your site and want to know how this site is sending traffic to you. So, you may visit it. At worst, this site may try to infect your computer with malware. At best, it will bombard you with ads, making fractions of cents on every view. So, please do not visit these sites. The effect in Analytics is to show more traffic than you're really getting combined with a higher bounce rate than you're really getting.
The spamming referral sites currently includes the following domains: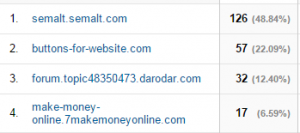 darodar.com
semalt.com
buttons-for-website.com
us.wow.com
adviceforum.info
makemoneyonline.com
ranksonic.info
We have taken steps to block traffic that is coming from the known spamming referral sites. This will help restore accurate numbers to Google Analytics by eliminating this bogus traffic. There are ways to filter this in Analytics, but I would prefer to block this traffic from even hitting the site if possible. If your site is under a normal maintenance service with Cyber Scriber, this has likely been installed on your site today. Please contact us to confirm or if you would like to request this filtering for your site.
Update: 4/15/2015. More spam urls are showing up now, so these urls have been added to the filter.
4webmasters.org
social-buttons.com
best-seo-solution.com
buttons-for-your-website.com
best-seo-offer.com
Get-Free-Traffic-Now.com
forum69.info
This will likely continue to be something that has to be updated until Google makes a simple "mark as spam" option in the referring url list. Hopefully this is something in the works.